TOUR WITH SRI LANKA DRIVER GUIDE
Amazing Trip in Sri Lanka
We visited Colombo with 3 three families for holiday. Mr Mahesh had given excellent service and hospitality. He his very good person. We experienced a beautiful holiday stay in srilanka. Please choose Mr Mahesh for tour needs in srilanka.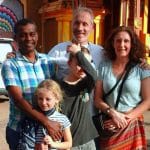 Gilles, Armelle & Kids
From France
Best Driver Guide in Sri Lanka
We have just had an excellent 6 day custom tour. We started in Kandy and went to Sigiria, on to Kandy, Nuwaraeliya, Udawalawe.Our driver Mr.Mahesh was very friendly, knowledgeable, prompt and looked after us very well. I am happy to recommend this Sri Lanka Driver Guide Mahesh.
Jannie & Jann
From Denmark
Wonderful Time in Sri Lanka
We had a wonderful time in Srilanka, thanks to Mahesh, our tour operator who made our stay a memorable experience. Srilanka is beautiful and picturesque and we suggest that everybody should go with tours for Srilanka for their unparalleled service.
Gregory & Family
From USA